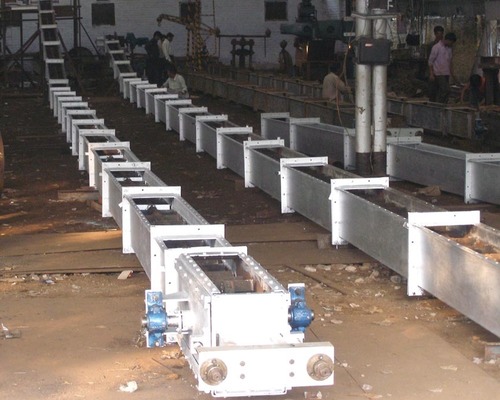 Product Description
Chain Conveyor
Our manufacturing range for Chain Conveyor includes:
Drag Chain Conveyor: Horizontal & Inclined
Wide Scraper Conveyor: Dry or Wet type
Slat Bucket & other types: As per application
The Drag Chain Conveyors are sturdily designed and the friction area of trough with chain & flight is provided with carbon steel/ Sailma/ Mn- steel liners. For wide Scraper conveyors two or three chains are provided to pull the scraper bars. The return chains are supported on continuous guides. The chains are designed and manufactured for long life with high factor of safety. The shaft bearings are externally mounted with provision for thermal expansion of the shaft. The chain tensioner is self-adjusting type for wide Scraper Conveyors where as for others if is. Screw or gravity type. Scraper bars are provided with welded / bolted friction pads where it rubs with casing liners. Sprockets are forged, machined and volume or case hardened as required.
MANUFACTURING RANGE
Size
Number of chains: One / Two / Three / Four
Material of Construction
Chain material: 20 MnCr5 / Carbon Steel
Scraper Bar Liner: Sailma / Carbon Steel
Sprocket material: EN8 / EN353
Shaft: EN8 / EN19 / EN24
Take-up: Self adjusting / Screw / Gravity
Drive:
Safety features:
Contact Us
131, 1st Floor, Jodhpur Park, Kolkata, West Bengal, 700068, India
Phone :+918068092333